Invest Wisely to Achieve Sustainable, High Quality Surfaces
With so many design possibilities and material options for walkways and paths, there are several interesting ways to incorporate them in your landscape. From directing foot traffic and defining borders, to creating focal points or adding texture and color, they can truly enhance the beauty and functionality of your outdoor spaces. Selecting a durable, cost-effective material before you install a walkway requires careful consideration. You need to think about many aspects. The experts at Lyngso Garden Materials are happy to elaborate and advise you on the top material options for walkways and paths.
Considerations for Installing Paths and Walkways
Although used interchangeably, there is a slight difference between the terms 'walkway' and 'path'. Walkways are utilitarian paved surfaces with straight routes that facilitate the flow of foot traffic. Hardscape materials, such as poured concrete, pavers, or mortared stone slabs make good options to build walkways. Paths may be meandering routes that add a recreational element to your landscape. They usually feature natural materials, such as mulch, loose gravel or stones. Before you select the material options for your walkways and paths, pay attention to aspects such as:
Appearance: Will it be a decorative, low-traffic surface in your backyard, or the main pedestrian access to your front door?
Obstacles: Will you be rolling trash cans, garden equipment or bikes and toys over the surface? Do you need to accommodate any drainage systems within the surface? Does it need to be ADA compliant?
Location: Are you installing the surface in a high-maintenance area of your yard? Is it a shaded area that is prone to breeding moss and mildew?
Budget: Pathway and walkway materials vary based on installation and maintenance costs and efforts. Have you accounted for the immediate expenses as well as your annual maintenance budget?
Top 5 Trending Options for Design and Materials
Here are some of the popular material options for walkways and paths:
Natural stones: The charm of natural stone is unbeatable, but it is more expensive than some of the other materials. Since each stone is unique in color, shape and design, natural stones, such as sandstone, limestone or slate make for attractive walkways or paths. While natural stone surfaces are beautiful, slip-resistant, and long-lasting, you will need to protect them from stains, spills and harsh weather by resealing once or twice a year.

Aggregate stone and rock: For a rustic, natural appeal, especially for free-form garden paths or landscapes, select:

Brick: For a classic, timeless look with a traditional appeal, concrete pavers are the way to go. Available in several shades, sizes and finishes, concrete pavers are strong, inexpensive, and easy to clean and maintain.

Gravel: One of the most affordable and easy to lay materials, gravel is an excellent choice for walkways and paths. You can prevent the gravel from spreading by installing plastic edging, bricks, paving stones or larger rocks.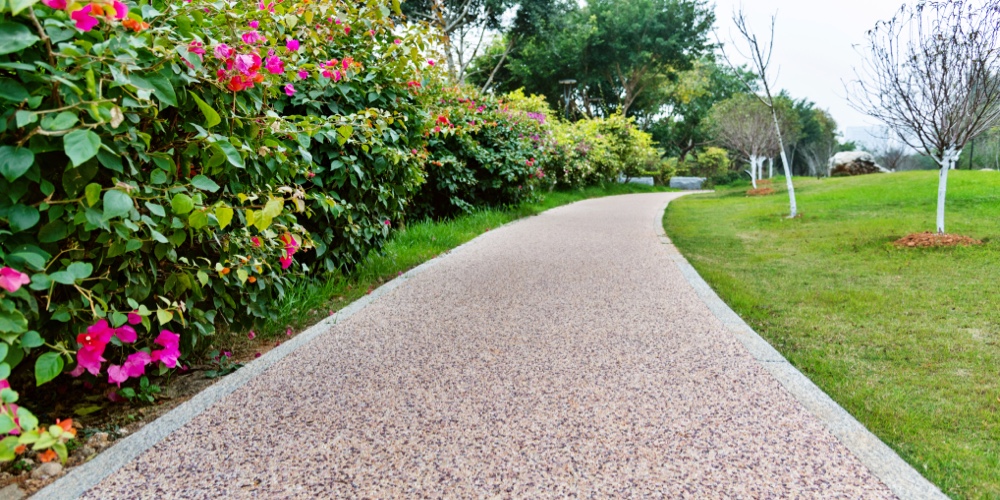 Extensive Range of Materials for Walkways and Paths at Lyngso
We offer a large collection of the finest quality gardening materials and hardscaping supplies. From premium paving stones, natural stones, to gravel and decorative aggregates, such as path fines, you can choose from an extensive range of materials for installing new hardscapes. We also stock all the tools and supplies you may need for maintenance and touch-ups. Our knowledgeable and friendly team will be happy to assist you and offer ideas for walkway or path designs.
For over 60 years, we have been serving the gardening and landscaping needs of customers across the San Francisco Bay Area.
To buy quality landscaping materials or explore material options for walkways and paths, call Lyngso Garden Materials at 650-364-1730 or visit our store.