Many people choose to plant in spring and harvest in the summer while giving things a rest through winter. We are here to tell you that it is possible to have a garden that produces a delicious bounty of vegetables year-round. We believe a winter garden is easier to manage than a summer garden with a good strategy.
When February and March roll around, and the sun is shining a bit more intensely in Northern California, now is the optimal time to start preparing your garden for spring and fall harvest.
As the gardener, it will be up to you to observe weather patterns to see if the ground is dry or saturated. This will be your indicator of whether you can sow seeds directly into the ground or transplant seedlings from indoor planters.
This blog will cover how and when to plant the best vegetables for a thriving spring and fall harvest in this Northern California region, whether in San Mateo County, Santa Clara County, or any surrounding areas.
If you are sowing seeds into the ground, we suggest ensuring that your garden is prepped and ready by clearing, pruning, mitigating any drainage issues, and adding a winter blanket of mulch. For more detailed instructions on how to get your garden ready for spring harvest, read Our Guide to California Winter Landscaping.
From Seed to Harvest: How to Put the Plan in Planting
Depending on the current weather conditions, as unpredictable as they can be in February, it is wise to consider if your soil is workable or not. If you've been seeing a lot of harsh winter rain, you know that the soil has many wet layers deep into the ground and is not ideal for working on just yet. Turning the earth now could compact it, resulting in clods and clumps.
But don't let that stop you from starting your winter garden. Some gardeners will opt for covered, raised beds or planting seeds indoors for transplanting in a month or two to get the process started sooner.
Alternatively, you could drop seeds right onto the top layer of soil if healthy or amended and add mulch for protection. Ideally, you'll want to plant your seeds early in the day while the sun is shining.
How to Prepare Your Soil for Vegetable Growth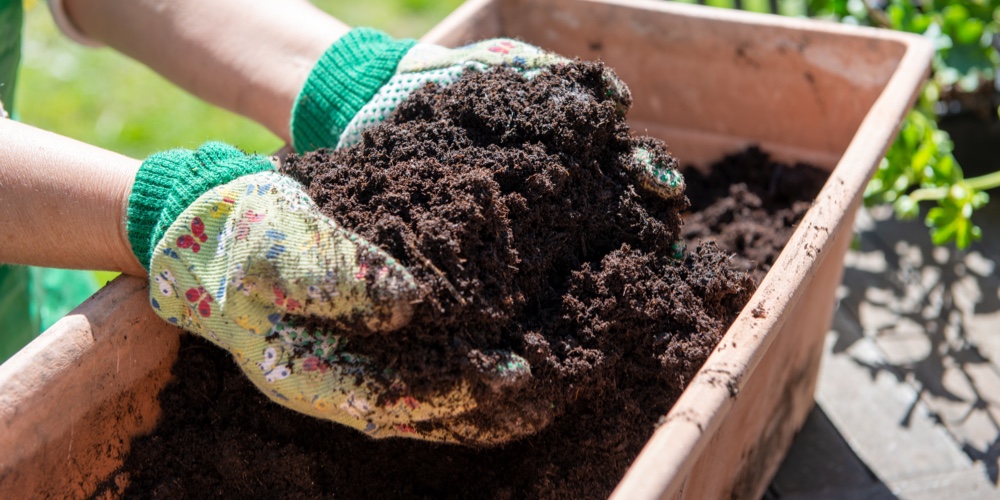 It is advantageous to focus your time on improving your soil in the wintertime. Do you know your soil composition? If you are new to gardening in general, now is the time to get it tested if you aren't sure. We suggest that you test your California soil for pH and basic nutrients. Soil is the life of your plants, so make sure not to skip this step.
Once you understand the composition of your soil, you can then add any of our organic soil amendments to create the perfect combination of soil for vegetables that you plan to sow directly into the ground. Of course, we recommend compost for vegetable gardens; however, we also have proprietary blends that contain compost for a great all-in-one solution.
If you're planting in raised beds or pots, then you can simply choose the best type of soil to meet the needs of the vegetables you're producing. We suggest our Essential Soil Blend for raised beds and planters.
The Essential Soil Blend is an all-natural mix of pea gravel, organic garden compost, fir bark, and coarse sand. It is ideal for raised planters because it provides excellent aeration, water penetration, and rapid root growth to ensure they will be ready for transplanting to your garden in a few weeks.
For sowing seeds directly into the ground, we recommend our Lyngso Veggie Blend, a ready-to-plant blend of Sandy Loam, Organic Diestel Structured Compost, and Redwood Sawdust. Sandy Loam provides minerals and retains soil moisture. The compost is brimming with life and food from turkey manure, and the Redwood Sawdust aerates the soil with an extended breakdown time.
What Are the Best Vegetables to Grow in Winter?
The best way to plan what vegetables to grow is by selecting ones that can withstand growing in the cold and heat to harvest in late spring and fall. However, in mild winter regions such as Northern California, these vegetables will grow all year long.
Growing winter vegetables has a few key advantages over summer gardens. First, because temperatures are lower, they will require less watering. Using drip irrigation ensures you make the most out of the water they receive. Additionally, pests are much less of an issue in the colder months.
You can plant bare-root asparagus, berries, and rhubarb now. However, these vegetables are perennial, long-term producers that require full sun, so plan accordingly concerning location in your garden.
Other hardy vegetables that can handle growing in cold snaps and potential frost are spinach, collards, and kale, along with broccoli, Brussel sprouts, kohlrabi, and leeks. Root veggies also fare well, such as turnip and radish. If you'd like to grow some herbs; parsley, thyme, sage, and rosemary, also handle cold weather well.
It can be a little tricky to determine the best timing for planting your winter veggies, so be sure to consult with the planting guide for Santa Clara or San Mateo and San Francisco Counties.
Once you've learned which vegetables grow best in winter, it then boils down to which ones your family enjoys eating. For hearty winter soups and stews, you might want to grow root vegetables, leeks, kale, collards, etc. When making salads or stir-fries, you can add Asian greens, cabbage, and winter herbs.
If you're looking for a little more hands-on knowledge, consider signing up for one of our classes on Fall and Winter Vegetable Gardening. This recorded class includes growing tips for selected vegetables that do well in this area, water needs, soil mixtures, growing seedlings, pointers for purchasing healthy starts, spacing and planting calendar, protection from pests, and the value of weekly monitoring of growth.