Xeriscaping, or designing landscapes to reduce or eliminate the need for irrigation, has been gaining popularity within California and other arid environments for years. The landscaping technique utilizes rocks to give your exteriors more dimension, strategic functionality, and a year-round appeal that reduces water needs. If you're looking at the bigger, long-term picture and want to increase the value of your home for years to come, we suggest utilizing rocks to give your landscaping project more character and natural performance.
The following are ideas that you can incorporate into your California yard project to assure maximum water efficiency without sacrificing aesthetic appeal.
Create An Aesthetic with Colored Rocks and/or Path Fines by Forming Fixed Patterns
Add visual intrigue to your landscape by using colored rocks as ground cover in fixed patterns to accent certain areas or highlight featured plants. Further enhance the look by choosing path fines for your walkways that compliments the overall design and gives you a sense of comfort when experiencing your home's exterior world.
Imagine the following, two colors of pebbles used artistically in a flowing yin and yang pattern as ground cover: Black Aqua Cove which are natural decorative beach pebbles, dark matte black in color and Snow White Pebbles, which are chalky white pebbles with minuscule reflective particles that give this stone the appearance of snow. Each section of black and white rock swirls into the next which draws your eye to wherever the pattern leads you. Now envision a pathway painted in orange and pink hues from the rhyolite and felsite Taffy Fines that takes you to a patio and koi pond. Can you feel the sense of tranquility and balance that this landscape creates?
Brainstorm design ideas that include colored rocks and/or path fines in fixed patterns to create an aesthetic for your home's exterior.
Choose Decorative Pebbles as Mulch in Your Flower Garden
You can use pebbles as decorative mulch for your flower garden beds and around trees. Remember, wood mulch is more beneficial to feed the soil and will decompose over time, however, if you are looking for inert mulch for decorative purposes, pebbles are a great option! Decorative pebbles retain their color and give the area a clean appearance, while also helping with water drainage. With a variety of colors, textures, and sizes to choose from you have the ability to customize your landscape.
To give you a few ideas you can accentuate your succulent garden with Salmon Bay Pebbles, a mixture of opaque salmon pebbles with some white that look incredible against the array of soft plant colors. Add Jade Green High Polish Pebbles which have subtle translucency in a pale jade-green color so that they resemble seafoam or choose Niji Pebbles to compliment blooming flowers in a variety of colors. Niji means rainbow in Japanese and the product contains a combination of red, blue and white pebbles that will look great along a walkway.
If you're looking for a more natural aesthetic choose Quartz Pebbles, a mixture of rounded and angular pebbles that includes black, white, grey, and a few rust-colored pebbles. They are commonly used for garden ground cover, pathways, planting beds, and walkways. Or opt for Pami Pebbles, a mixture of rounded pebbles in beautiful muted colors such as burgundy, pink, tan, blue grey, and green. These are great for barefoot pathways or garden ground-cover surfaces.
There are several different types of pathways that you can incorporate into your landscape design that utilize rocks. Besides using decorative pebbles, as mentioned above, you can opt for gravel. Pea Gravel is a clean stone mix that can pave the way without compromising drainage.
Another wonderful idea is to create a stone path with irregular flagstones that lie directly in the grass or are surrounded by pea gravel as a filler. For a sleek and striking look choose Galaxy Black Tumbled flagstone. The large limestone pieces in matte black have softened edges and are typically 2" thick. Their appearance can add depth and angular contrast to your landscape.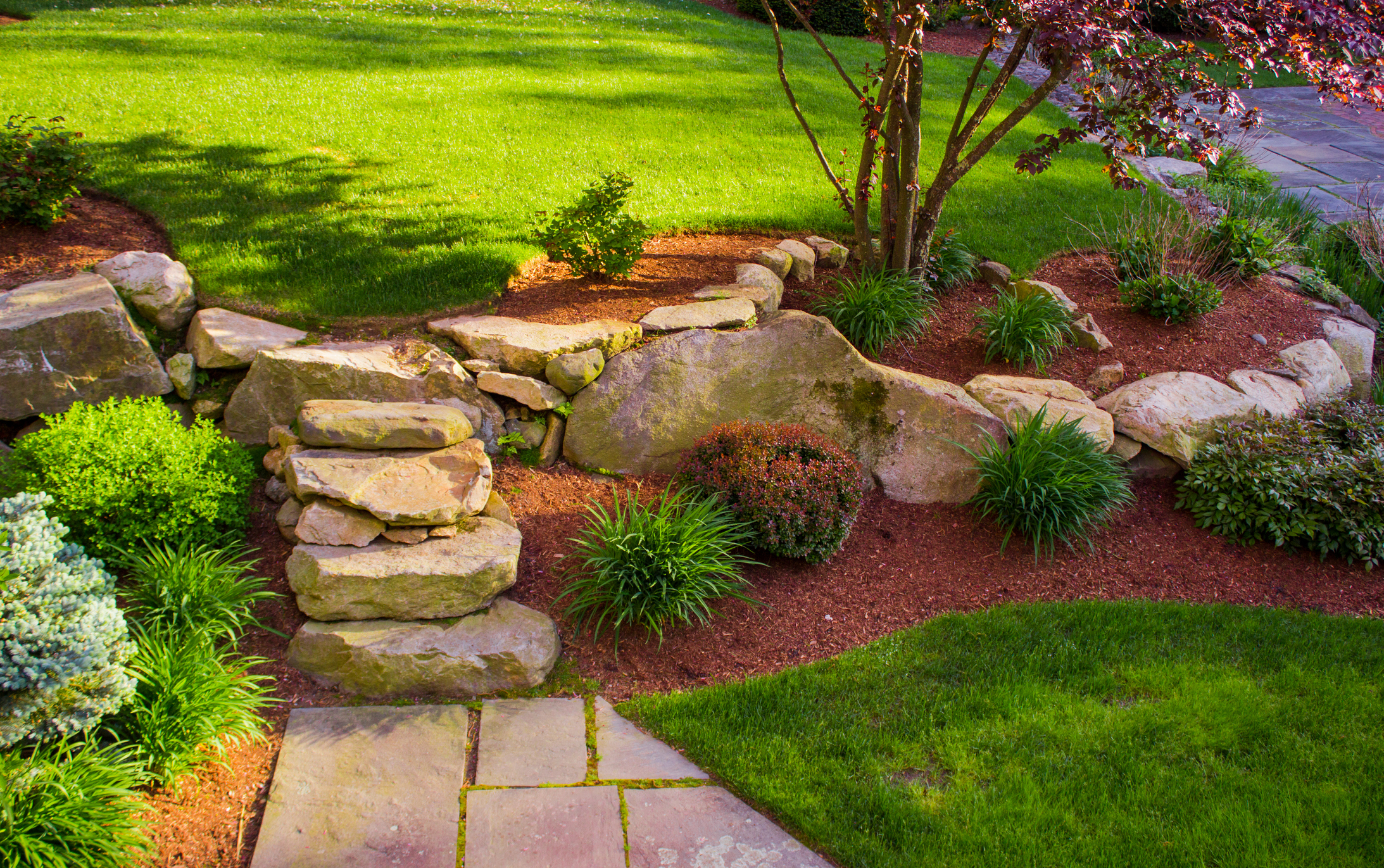 Separate Sections of Your Landscape with Rock Borders and Retaining Walls
Separate sections of your landscape to prevent developing shrubs and groundcover flowering plants from spilling over into your main lawn. Use rock borders and retaining walls to give your landscape the structure and form that it needs.
Make a border between your plants with Sonoma Wall Rock. The weathered rhyolite rocks are smooth and rounded with a bright orange hue on the root side, aka the side that was buried in the ground, and a dark brown to charcoal gray on the weathered side which may be covered with moss and lichen. The rock border can be a single layer of varying sizes defining an area or a larger and thicker section of stacked rocks.
Create a retaining wall with Cold Water Canyon Drystack, an irregular rustic rhyolite flagstone covered with various colored lichens that adds an organic look. Or for a more refined approach choose the Old Reading Wall Rock consisting of granite that has weathered faces with grey-blue, purple hues and is 8" – 12"in depth.
Rock borders and retaining walls are tasteful features that create spatial awareness and separation within your landscape.
Use Boulders as Natural Focal Points or Seating Options
Add a boulder to your yard to either be a focal point for your landscape design or act as a seating option near your garden. Atwater Granite Boulder has a smooth sculptural element that makes a beautiful statement piece, and the Telluride Gold Boulders are beautiful blocky sandstone boulders that range in color from greys, rusts and tans. Either of these options and a variety of others can give your yard an element of grounded playfulness.
Where to Buy Landscaping Rocks
It's an excellent idea to add rocks into your landscape design for water efficiency, long term sustainability, and visual intrigue. Everything from pea gravel to oversized boulders will give your yard texture, variety, and functionality in ways that compliment your overall landscaping goals.
If you have more questions about xeriscaping or how you can give your California landscape more character and natural performance contact us. Our family at Lyngso is a great place to buy Garden and landscaping supplies in California and we'd love to help with your next project.