Every homeowner understands the importance of improving the appearance, functionality, and value of their home, however they may not be as knowledgeable of how to do so with hardscaping. Gain insight into the popular design technique and learn 5 creative ways you can utilize decorative rocks to improve your home in a low maintenance, dimensional, and sustainably stylish manner.
First, What is Hardscape Design?
First off, hardscape design refers to the non-living features within your exterior or interior landscapes that are non-living. It includes decorative or practical structures that not only provide an attractive aesthetic, but also help organize the space, direct the flow of traffic, and/or create zones for entertainment to make your home more functional. Examples of hardscape features include: fountains, retaining walls, pathways, patios, firepits, driveways, etc.
A hardscape composed of decorative aggregates (aka rocks) visually offers dimension, texture, and color, while also helping reduce erosion, minimize maintenance, and fight water waste. Examples include gravel, crushed rock, and polished or premium pebbles, which are all highlighted below in 5 versatile ways. Let's see how.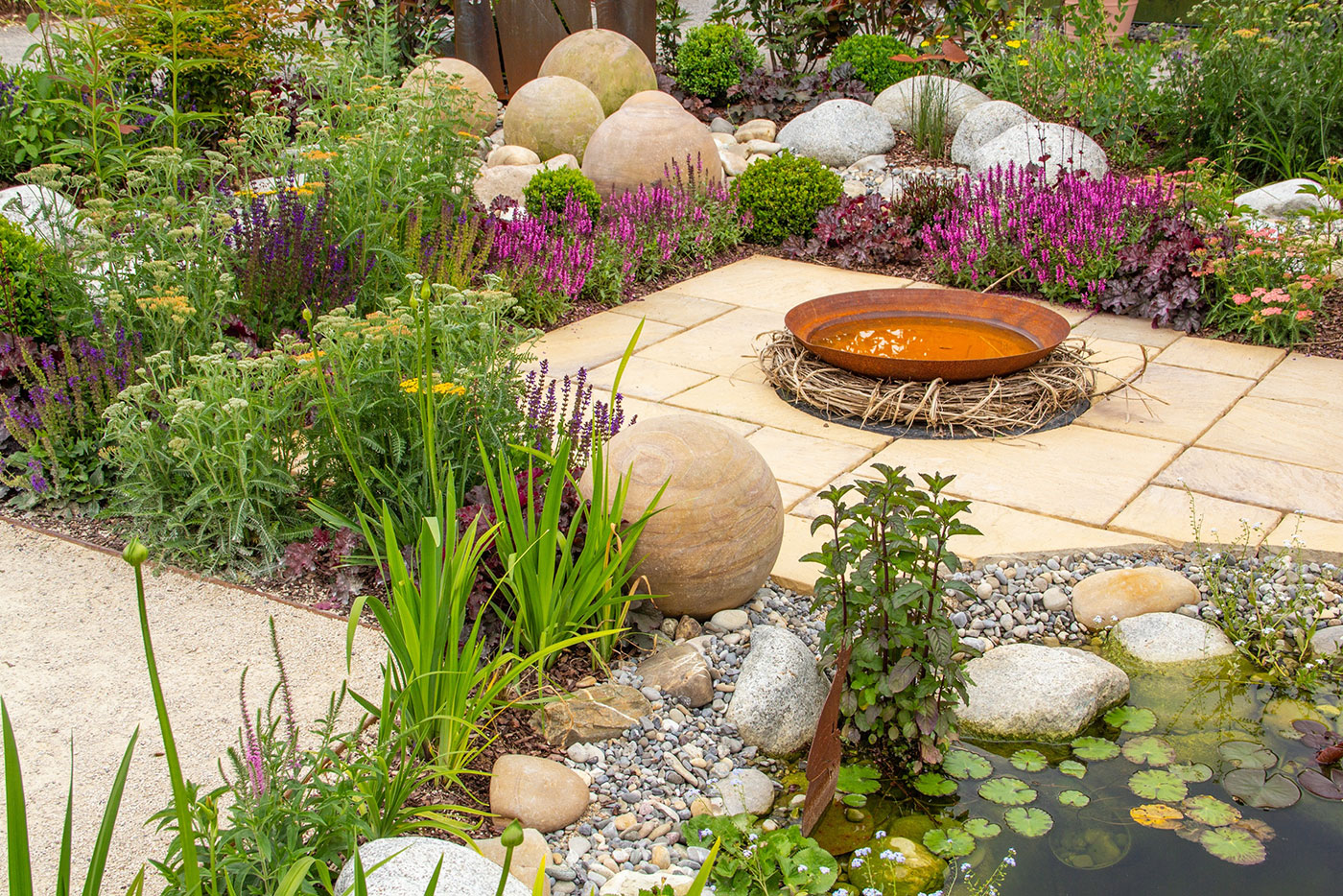 Line your water fountain with a pop of color using premium pebbles. The reddish, brown, and maroon hues of the Red La Paz will make you feel like you're at the beach in Mexico, whereby the Green Aqua Cove composed of white, green and grey will provide a brighter, less formal display of colors. Available in a variety of sizes and natural color combinations, the rounded stones will beautifully compliment a water feature and act as a key focal point to capture your guests' attention.
If you have a skylight or well-lit area in your home, create a serene and zen-like atmosphere with an indoor atrium lined with polished pebbles. Everything from succulents to tropical plants can thrive within the space, if cared for appropriately, and the rocks themselves will become a low maintenance accent that either feels grounding, balancing or 100% invigorating, depending on the variety you choose. Use Kuro Black Highly Polished Pebbles to add a classic base to your greenery, opt for Buckthorn Yellow to compliment other natural tan features within your home's design, or select Wasabi Green to make the area a bit more interesting with soft greens and blues. Have some fun with shiny or matte pebbles. The options are plentiful so that you can create an indoor rock garden or atrium that appeals to your senses.
Turn your dirt path into a gorgeous walkway by covering it with permeable crushed rock. The homogenous color options will clearly define the way to your garden, back patio, or parking area, while the compacted surface makes it a little easier to travel on without being concrete or asphalt. Available in numerous colors, textures, and sizes crushed rock is an excellent choice for making your hardscape attractive and functional. Some examples worth noting are Glacier Green, Black Basalt, and Rose Gold. Each showcases a particular look and style that will compliment your home's exterior appearance.
Install a layer of path fines around your entertainment areas to give it a clean and concise look that will last for years to come. If your exterior design would look best with buff, orange, and pink hues the Taffy Fines are an excellent option to apply next to your patio, firepit, or outdoor BBQ. On the other hand if your landscape needs darker accents choose the Black Basalt Fines to lead the way to parking areas or the dog run. Path fines are a low maintenance and permeable option that add long-term value to your hardscape.
In California creating a fire buffer zone to slow the spread of flames is not only important, but it's becoming necessary for smart homeowners to install. The nation's first fire safe council FIRESafe MARIN has several design suggestions, including utilizing Pea Gravel around your property to act as a natural fuel break and defensible belt so that your home is better protected from seasonal wildfires. Your family and your neighbors will appreciate the forethought.
Improve the appearance, functionality, and value of their home by adding decorative landscaping rocks to your hardscape. With numerous options, it will be easy to find something that gives dimension, texture, and color to your intentional design. If you're looking for more ideas of how to utilize decorative aggregates or you need help in determining exactly what would work best for your home contact us at Lyngso. Our trained staff will help you transform your California hardscape into a pristine, purposeful, and worthwhile home addition.