The sun is shining, and the smell of barbecue permeates the air, which means summer is here! Most families are preparing their backyards for a season of parties and get-togethers to enjoy the warmer weather with loved ones.
Did you know that blending indoor and outdoor living spaces have been all the rage over the last few years?
With the right creative vision and guidance from Lyngso's experts, your backyard can turn into a cozy yet practical extension of your home. Backyard design projects cover everything from open-air kitchens and firepits to sprawling walkways, relaxing patios, and zen-like water features using decorative landscaping rocks, natural stones, and other hardscape features. 
Not to mention, investing in hardscapes boosts curb appeal, reduces maintenance costs, improves the value of your home, and blends the natural beauty of landscaping rocks and natural stones with living elements such as plants, shrubs, and trees. 
Whether you're looking to refresh your patio, build up accent walls, or upgrade your outdoor kitchen, this article will inspire creative hardscape ideas and suggest the best hardscape features when designing the perfect backyard experience for you and your family this summer.
Design a Sustainable and Unique Look for Your Patio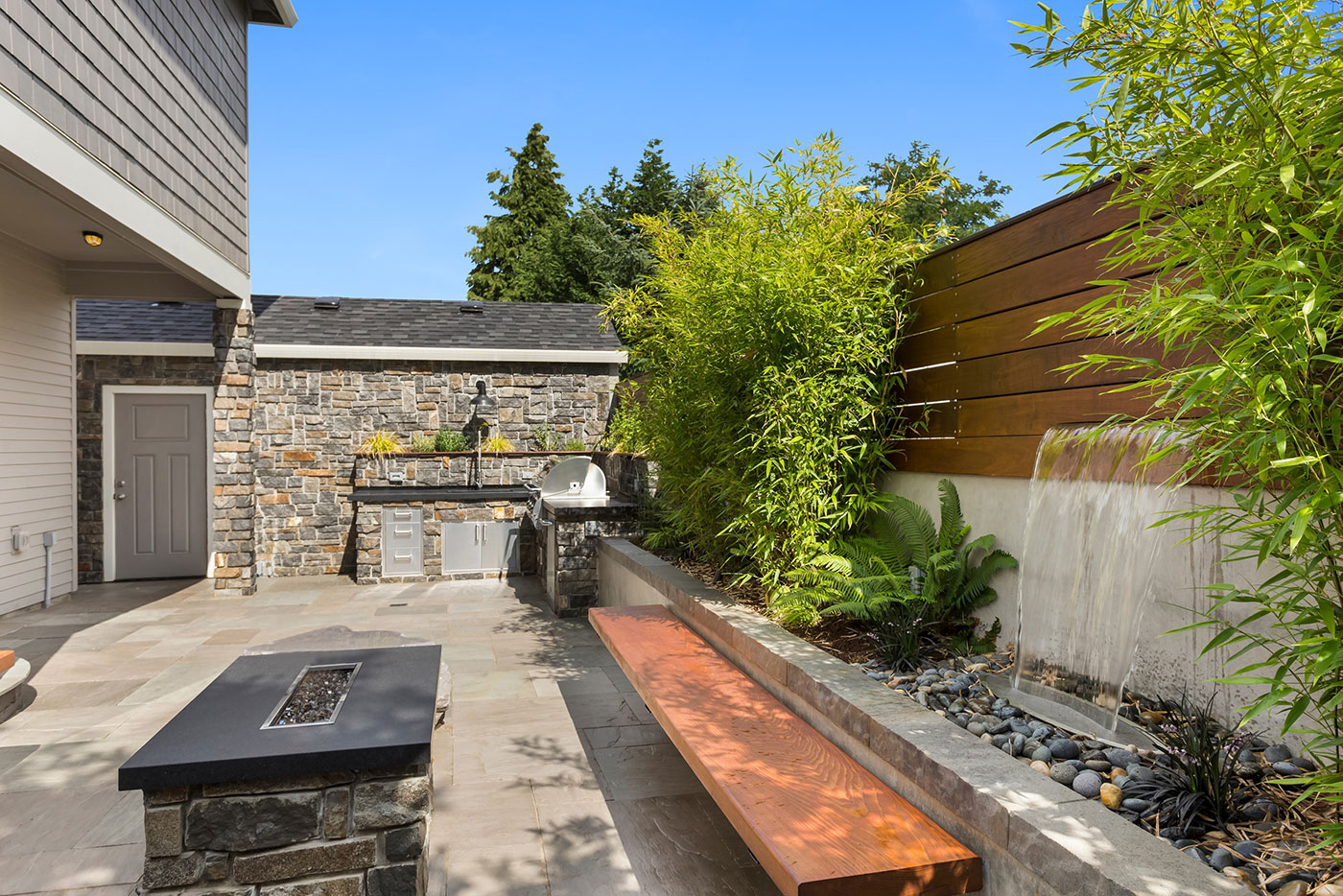 Outdoor patios complement your home and create a warm, inviting space for treasured memories with family and friends. The types of stone you use will have dramatic effects on the design. Your backyard design projects should always start with dimensions and a design. 
When focusing on sustainable design that blends seamlessly with the outdoors, we suggest using local dimensional stones or irregular flagstones for your patio. They are cut stones with rectilinear edges, making them easy to install. In addition, they include stepping stones, capstones, coping, and treads that will upgrade your home value.
If you prefer a more rugged look consider irregular flagstones that come in different shapes and sizes and generally have no 90-degree angles. The asymmetrical pattern is often used for a natural appearance when symmetry is not desired. Both of these stones can be used for your patio, walkways, driveways, and pool decks.
Add Rustic Appeal to Your Outdoor Kitchen 
The kitchen is the heart of your home, so why not make an outdoor kitchen the heart of your backyard? Drystack stones and wall rocks are timeless natural resources that add a rustic look to your outdoor kitchen. There are multiple ways to incorporate these stones into your design, depending on the size of the area and the hardscape features you want to add.
We consider the grill island the hub or focal point of your outdoor kitchen and can set the tone for the whole design. If you have a large outdoor kitchen space, stacked stone can also be used throughout the area by adding a seating wall, privacy wall, or a stacked stone bar.
If you have an existing concrete wall we suggest veneer panels to install on the face of your grill island or to cover up unsightly concrete pillars and transform them into beautiful accent walls. Veneer Panels are meant to lock together for a seamless look and require mortar for a secure installation. We carry a variety of natural stone veneer panels, and each panel has a unique look with natural variations.
If you want to bring your pony walls, freestanding walls, or columns to life, you might consider using ledge stones to create beautiful accents. Another great addition to add to the perfect backyard experience is a pizza oven, and both drystack and veneer panels can be used to add rustic flair.
Whether you're going for a sandstone or earth tone color scheme, we carry various veneer panels, natural drystack, and wall rocks that will suit your needs, from limestones to quartzite to basalt and more!
Create a Cozy Atmosphere for Entertainment
Take your backyard experience to the next level with a cozy firepit. Whether the kids enjoy roasting marshmallows or you want to set the ambiance for a family gathering, a fire feature will surely extend the hours to enjoy your outdoor space. Additionally, it adds a warm glow to the outdoor atmosphere and will look stunning with stacked stone in your outdoor kitchen for a backdrop.
You can stack several stones around a fire pit to create a flow of natural elements in your backyard, such as our veneer panels or flagstones. Both of these stones are heat resistant and stack nicely around a firepit for the whole family to enjoy.
We hope that a few of these ideas have led to the inspiration for your next backyard design project in the Bay Area. Whether you're looking to create stunning accent walls, build a fire pit or design your backyard living space from scratch, it is best to consult with one of our experts for a smooth and precise installation.
Our landscape and hardscape experts are at the heart of our business. Based in San Carlos, CA we are a family-run and employee-owned business working for over 50 years as a resource for our community.
We offer materials and expertise to educate and satisfy our clientele. Please contact us if you have further questions about your landscaping and hardscape needs.