If you are looking for a cost-effective way to prevent rainwater from taking over your garden, a bioretention cell is a great solution. Creating a rain garden or biotreatment area (also known as a bioswale) can help significantly increase soil absorption capacity as well as prevent pollution of water sources. Used in a variety of settings including parking lots and residential spaces, these specially-engineered areas are critical for proper storm water management. Let's take a closer look at what bioretention cells do for your landscape and the environment.
Importance of Bioretention Systems in Urban and Rural Landscapes
According to the US Environmental Protection Agency, unmanaged storm water is a major threat to the country's water bodies. Rainwater carries harmful bacteria, pollutants, heavy metals, soil, sediments, trash and oil from roofs, roads, driveways and landscapes into storm water drains. This ultimately finds its way into our water sources, causing serious health and ecological concerns.
Soil and vegetation-based bioretention areas are becoming increasingly popular and a requirement for many cities. They help filter pollutants while reducing runoff from rainwater. They also create a habitat for beneficial ecosystems and hold nutrients and moisture for plant and tree growth.
What are Bioretention Areas?
Most bioretention cells consist of a grass buffer strip, a sand bed and graded ponding area composed of an organic layer (compost or mulch layer), soil (planting quality) and plants. Each component has a specific function.
Grass buffer strip: reduces runoff velocity and filters particulates
Sand bed: also reduces velocity and filters particulates; plus, it also distributes the runoff water evenly over the length of the bioretention area
Ponding area: provides a temporary storage location prior to runoff evaporation or infiltration as well as filtering the remaining particulates
The organic (compost and/or mulch) layer: filters pollutants, but more importantly, it provides an environment for growth of microorganisms which breakdown organic material and petroleum-based products
Planted groundcover and plants: helps reduce erosion
Planting soil: absorbs hydrocarbons, heavy metals, nutrients and other pollutants, while storing water and nutrients for plants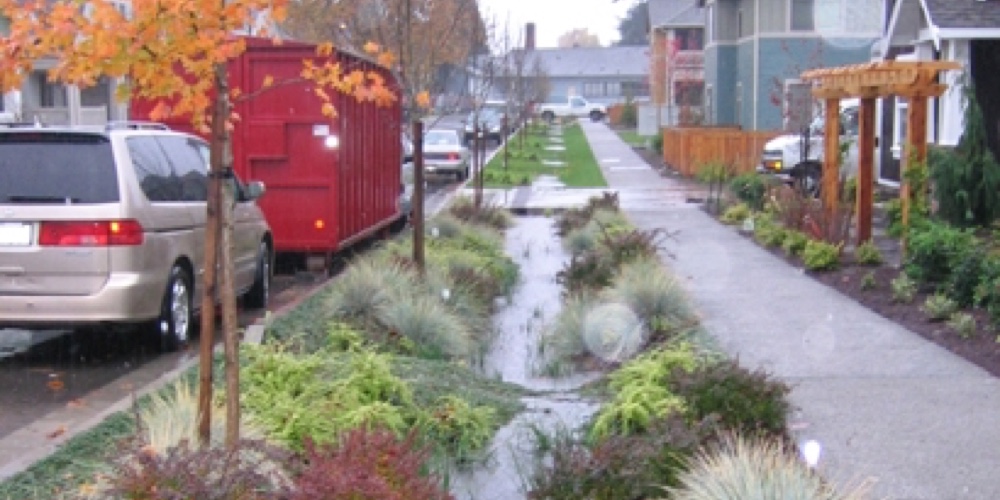 Creating a Rain Garden or Bioretention System
When properly planned, bioretention cells can be part of your attractive landscape. Designs are flexible, allowing usage in both large and small spaces in the form of shallow turf areas in a lawn, a landscaped garden in a parking lot median, traditional flowerbed or a mixed ornamental planting. The effectiveness of your rain garden will depend on the quality of engineering and design, choice of native plants or groundcover, and of course, the quality of soil.
Buy Quality Bioretention Materials at Lyngso
At Lyngso, we offer quality biotreatment materials to optimize the effectiveness of your natural drainage system and enhance landscape health. Our experts will be happy to help you with the layout and planning. From engineered soil mixes, compost and mulch to sand, aggregates and water features, you can buy a variety of products at affordable prices.
Visit our store to see a wide range of quality gardening supplies and be inspired by our display garden.
For more than 60 years, customers in Los Altos, Mountain View, Foster City, Palo Alto, San Bruno, Sunnyvale and South San Francisco, CA have relied on us for their landscaping needs.
Call 650-364-1730 today or visit us to buy your bioretention materials at Lyngso Garden Materials.