Stabilized decomposed granite has some incredible properties that, together with its rustic and natural appearance, make it an excellent choice for various landscaping styles. However, the binder employed in stabilization introduces certain trade-offs; some of the properties of stabilized granite fines come at the expense of others. For this reason, we created this guide on the advantages and disadvantages of stabilized granite fines. If you're considering applications like decomposed granite patios, this article also covers common problems and the advantages & disadvantages of opting for stabilized decomposed granite.
What Is Decomposed Granite?
Decomposed granite is a type of finely crushed and weathered rock material that has broken down over time into small particles. Decomposed granite is often referred to as "fines" because it contains a high percentage of fine granite sand. It is a versatile hardscaping material well-known for its permeability, natural aesthetic, and cost-effectiveness. Because of these properties, it's commonly used for various hardscaping projects such as driveways, pathways, and patios.
How Is Stabilized Decomposed Granite Different?
Stabilized decomposed granite is decomposed granite that has been blended with a stabilizing agent (binder) to improve its durability and stability, making the material more suitable for certain applications in high-traffic areas such as patios and walkways.
Some stabilized fines may contain polymer or other toxic binders, so if you're looking for a natural option, we recommend checking out the path fines in our store. For example, the Sunset Gold Path Fines Stabilized are 1/4″ minus gold granite fines that come pre-mixed with a non-toxic stabilizer and are ideal for applications where high stability is needed.
What Are the Advantages and Disadvantages of Stabilized Decomposed Granite Fines?
Key advantages
Affordability: Decomposed granite is typically less expensive than other hardscaping options such as concrete, pavers, or asphalt, making it an attractive option if you are on a budget.
Durability and low need for maintenance: Stabilized decomposed granite (as well as other stabilized fines) is relatively low maintenance. The binder helps prevent erosion or washing away from strong rainfall, which means that it requires less upkeep and attention compared to loose decomposed granite. Moreover, this material is capable of withstanding heavy foot traffic, making it an ideal choice for applications such as walkways and patios.
Rustic and natural appearance: Stabilized decomposed granite is available in a wide range of colors and hues, providing a plethora of options for any outdoor space and application. Moreover, this material can maintain its appearance for an extended period, creating a long-lasting and attractive addition to your outdoor space.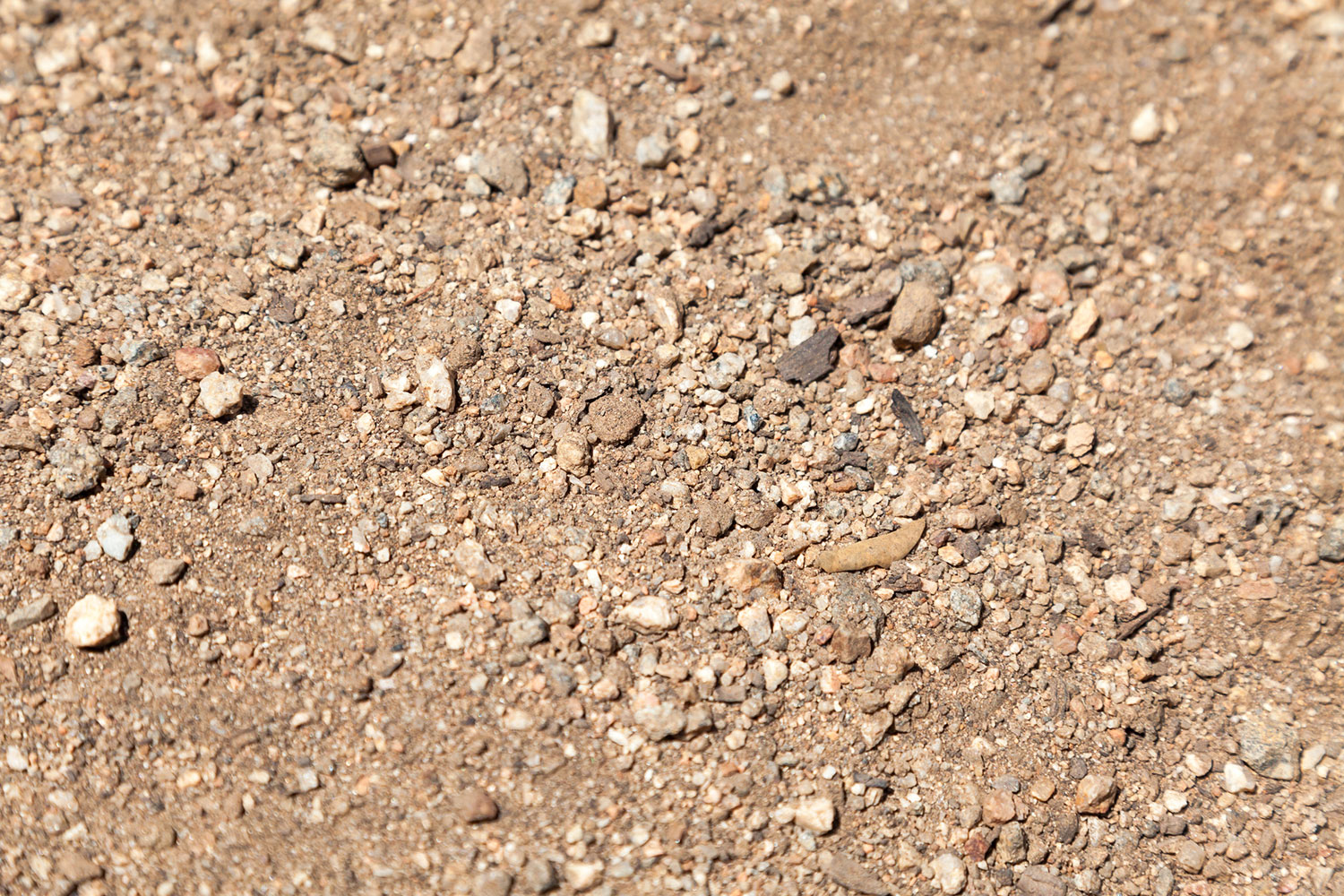 Disadvantages
Can be compromised under certain conditions: In regions with heavy rain, muddy conditions, and extreme temperature swings, stabilized decomposed granite may struggle to maintain its integrity long-term. The binder used in stabilization can be compromised, leading to potential erosion and the need for more frequent maintenance.

Requires careful installation: With stabilized fines, proper installation is key for the success of your project. Firstly, the stabilized decomposed granite fines should be added in layers or lifts, and not all at once. This layering process allows for better compaction and ensures that the stabilizing agents are evenly distributed throughout the material. Moreover, after installing each lift, it's important to give the material some "cure" time (usually a minimum of 4 to 6 hours, depending on the material and weather) so that the stabilizing agents can fully set and bond the decomposed fines together.

You should also keep in mind that Lyngso's stabilizer is a natural, non-toxic binder that swells up with the addition of water; therefore, it's best to plan ahead with your calculations. Following this process is key since if the stabilized fines are not installed properly, then erosion cracks may appear in the future. For detailed information on the proper installation of stabilized fines, you can check out our installation guide.

Potential environmental impact of stabilized decomposed granite: Chemical binders used in the stabilization process can be harmful to the surrounding ecosystem. Such stabilizers and binders may include resin or other polymer coatings and additives that release microplastics or have a toxic effect. At Lyngso we use a non-toxic, natural stabilizer, so in our store, you will find only eco-friendly fines that minimize environmental harm.
Uses and Applications: Decomposed Granite Patios
Stabilized decomposed granite often serves as a durable and visually appealing ground cover, making it a fantastic choice for applications such as paths and patios. Because it can be easily compacted to create a firm surface, stabilized decomposed granite can be used to create long-lasting and visually appealing patios with a natural aesthetic. Decomposed granite fines are great for dog runs and parks.
Common Problems
While stabilized decomposed granite has many advantages for patios, it may also have some drawbacks to consider. Stabilized fines are more prone to erosion and shifting over time if not installed properly, particularly in areas with heavy foot traffic or after heavy rainfall. This may result in an uneven surface and necessitate occasional maintenance to sustain.
Final Thoughts
Stabilized decomposed granite brings a natural aesthetic with a rustic touch and can be used to create highly stable and durable surfaces. Additionally, it is low maintenance and can last for several years with minimal upkeep if installed properly. With a wide range of tools and a variety of decomposed fines to choose from, Lyngso has everything you need to build a stunning and eco-friendly decomposed granite patio or walkway that suits your style and budget. Visit our large showroom and landscaping yard in San Carlos for inspiration and guidance, and contact us today to learn about delivery options for your SF Bay area home.